The challenge
We were approached by The State Library of Queensland (SLQ) to develop an interactive experience commemorating the First World War as part of the Anzac Centenary initiative. The library holds a catalogue of over 10,000 assets relating to the First World War, from photographs and newspaper scans to personal diaries and letters. SLQ wanted to bring to life the stories of these amazing Queenslanders in an engaging and emotive way.
The solution
After conducting a number of internal workshops to strategise how to best deliver the stories of those who went to war, we delivered an immersive, exploratory digital experience with storytelling at its heart.
A fresh approach was developed to showcase thousands of images from the library's archive with the added ability to navigate back and forth through an interactive timeline, moving through different dates, categories, and related imagery. To manage this wealth of images, our development team created an innovative code workflow to generate image thumbnails in large numbers and serve them quickly. This was delivered via a touch screen experience on-site at SLQ, using a large, nine screen video wall that enabled browsing of the full image library.
We also helped SLQ craft a number of personal stories from the diaries and letters of seven Queenslanders that experienced the war. These memoirs were brought to life through a series of audio reads we produced with assistance from professional voice talent. Thousands of pages from these memoirs were also made available from transcripts and images of pages from the original source material. The storytelling experience was delivered via two portrait 84" touch screens which allowed users to explore the seven featured Queenslanders. With this in place, users were also able to create a profile and curate their own collection of images to view and share with others. Additionally users were invited to browse through a library of soldier portraits with the capability to search on a family name to find a relative that went to war.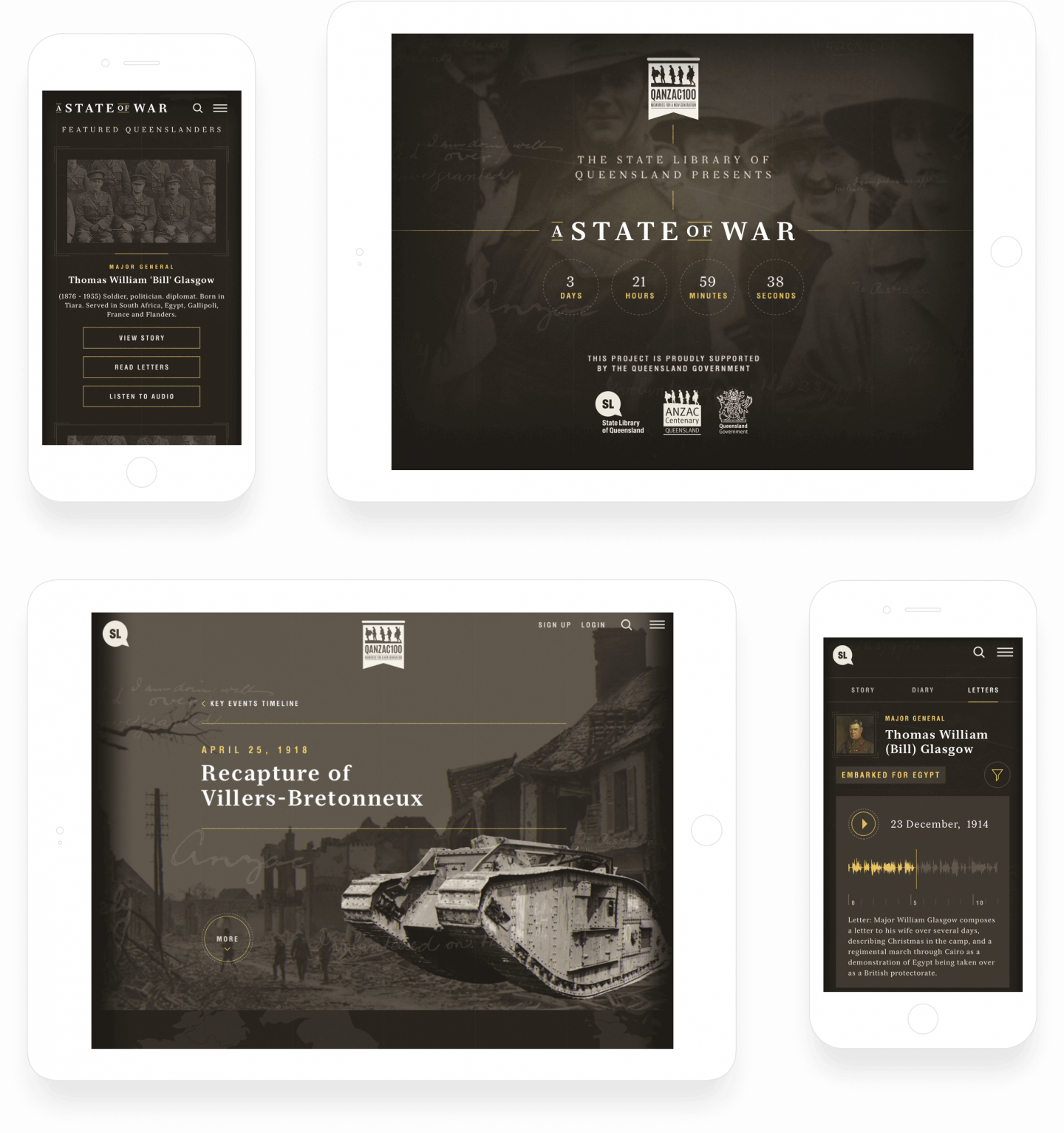 To extend the experience, a dedicated website was designed and developed to provide the same timeline and storytelling experience, broadening the reach of the digital experience beyond the installations in Brisbane to those living in regional areas as well.
To drive awareness for the installation and website, we created a creative campaign that reached a wide range of audiences. We crafted visuals and copy for digital display media as well as social ads on both Facebook and Instagram. Facebook was used to target older audiences using 'facts from the front lines' creative. While on Instagram, a particular focus was placed on youth who may have been unaware of the Anzac legacy, using 'then and now' creative that showed striking comparisons of the youth of today versus the youth back then, heading off to war.
The outcome
A State of War launched to critical acclaim, with the on-site activation seeing high levels of engagement with over 5000 interactions. The website won a number of global web industry awards including the CSS Design Awards and AWWWARDS site of the day. Site statistics have been hugely impressive; average visitation time sat at over 3 mins and the site racked up an impressive 45,000 sessions in its first two months. The site is expected to become an accompanying part of the school curriculum, enabling children to create profiles and curate image collections around specific themes.